Capt.Donald Neilson & Stuart Neilson Vs Grant Halley & Lyle Robertson
The scene was set. Two families The Neilsons & Halleys (with adopted son Lyle Robertson) steeped in GGC history going head to head.
Captain Donald hoped to be the first Captain in his year of Office to win The Cup. Donald had previously lost in 1987 with brother Douglas. This time was with brother Stuart.
Father Gordon Halley had previously won with a Robertson in 2012 (Grant) – was this an omen?
The Golfing Gods were kind – the hottest, sunniest day of the year for this GGC Major. The NEILSON BROTHERS v The YOUNG GUNS
Off to a flyer, The Youngsters 3UP after three. Two pars at the 4th & 5th and The Neilsons were back to just 1 DN.
The Youngsters always kept their noses in front throughout the final. 40/50 members greeted The Finalists at THE TREE enjoying the Golf, the Weather and the On Course Bar – a more vocal crowd by the 15th and the Final was keenly poised – 1UP to The Young Guns.
The famous Killermont finishing holes didn't disappoint.
The Youngsters went 2UP at the 16th. A superb Neilson birdie at the 17th set up a Grandstand finish down the 18th.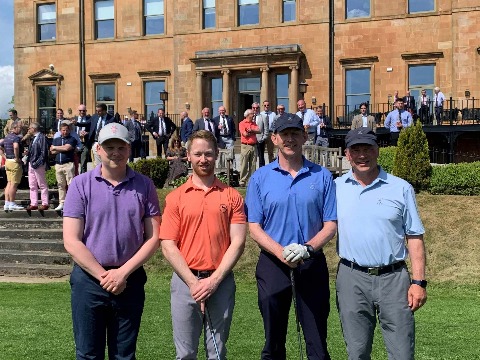 A par at the final hole saw a relieved Grant & Lyle over the line.
In their winners speech they were very complimentary with regards the course, especially the Greens which were way up there on the 'stimpmeter'. Also to Kevin and Staff for Lunch and excellent service throughout the day.
The Stewart Cup is unique to GGC. A magical competition 'The Members Major', which includes a roller-coaster of emotions throughout the week – once played in 'an experience never forgotten'
The Youngsters, The Halleys and The Neilsons toasted each other on the balcony – 'The Stewart Cup Journey' is as important as the result.
Grant & Lyle were last spotted in the Westend, in the wee small hours, celebrating their well deserved victory