The 131st playing of the trophy took place over the weekend.
Saturday saw the players battle in tricky conditions over Gailes Links in a wind that just kept giving, but Paul Dorrian didn't let that bother him recording an outstanding score of 68 in the morning.
Sunday was quite different glorious sunshine & a slight breeze over Killermont & an outstanding score of 66 was recorded by Scott Mann in the morning – on greens stimping at 11.5 which surely increased in the afternoon as the temperature rose under the blue skies.
It came down to the last match to decide the winner of this year's trophy & it was the overnight leader Jack McDonald of Schloss Roxburghe with a four round total of 282 who was successful just beating Scott Mann of Carnoustie whose score was 283.
Third: Aidan O'Hagan of Old Ranfurly with a score of 285
Fourth: 4th Ferghus Milne of Banchory with a score of 286 on a better final round
Fifth: Ross Noon of The Renaissance
Both courses were outstanding & we received fabulous praise on their condition from all that visited.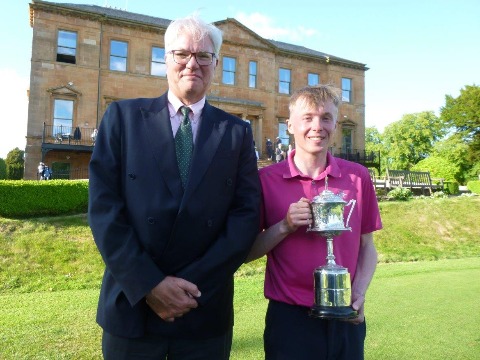 We were honoured to have Sir Charles Tennant's great great grandson Patrick as a competitor for the first time and he was able to present the trophy to this year's winner.
Click here to view further pictures from the day.
Click here to view full results.
---